Iceland has gone from an unknown destination to a travel hotspot in the past 5-10 years, partially due to the Icelandair Stopover deal. Iceland has become a beloved destination for nature-lovers due to the unique terrain, abundant waterfalls, geysers, and so much more natural beauty. Whether you are visiting Reykjavik as a stopover, weekend trip or portion of a Icelandic tour, this guide will help you optimize the time. Follow along for a step-by-step itinerary and other tips!
Disclosure: Some of the links in this post may be affiliate links. Affiliate links will give me a small commission at no cost to you.
Day 1: Arriving in Reykjavik
Day 1 is a travel day but depending on your arrival time, it can be a day of exploration as well. We took a direct flight from Seattle that left at 2pm and landed at 6am Iceland time, giving us a full day of exploring.
The Iceland airport is in Keflavik, 45 minutes from the Reykjavik city center. To get to the city, there are three options:
1. Schedule a bus- this is the most budget-friendly option, but also the most time consuming. Book a transfer ahead of time through Flybus who will drop you off at the nearest bus stop to your accommodation.
2. Catch a taxi- While Taxi's in Iceland are safe and reliable, they can be expensive (like most things in the country). Taxi's can be found directly out of the airport exit.
3. Book a tour- The Blue Lagoon is located between the airport and Reykjavik, making it a great first activity upon arrival. This is the option we selected.
Visiting the Blue Lagoon
The Blue Lagoon is likely the most well-known activities in Iceland and for good reason. The spa-like atmosphere and healing waters are incredibly relaxing and unique to Iceland.
Fun Fact: The hot springs at the Blue Lagoon are not natural, they are the by-product of the nearby energy-plant. However, the waters are still full of healing minerals.
Our first activity had to be visiting the Blue Lagoon. Although touristy, a trip to the Blue Lagoon was the best way to recover from a long-haul flight. The Lagoon is located between Keflavik (the airport) and Reykjavik so I would recommend going on the way to or from the airport to optimize your time.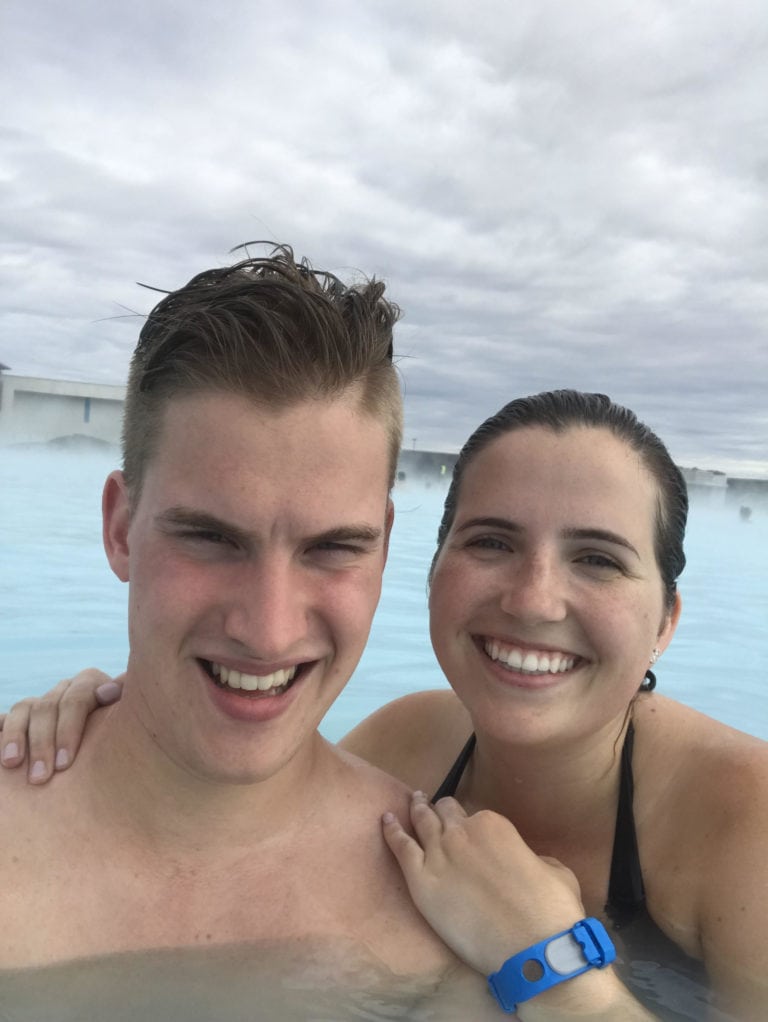 Tips for visiting the Blue Lagoon:
Book your tickets ahead of time here, tickets are not available on site.
If visiting to/ from the airport, there is a place to leave your bags for a small fee, just keep your swimsuit in your carry on.
Purchase this waterproof phone case to capture photos while in the water, these photographs will be some of your favorites from the trip.
                                 Soaking up the minerals from the lagoon. Smiles guaranteed.
Downtown Reykjavik Guide
Whether you go directly to town or make a stop at the Blue Lagoon, Reykjavik will be your home-base for your Iceland Stopover. Reykjavik is an adorable Scandinavian town with charming streets, beautiful water views and incredibly kind people.
After the Blue Lagoon, we traveled to Reykjavik and dropped our bags at the hotel. To get from the airport to the Blue Lagoon and from the Blue Lagoon to our hotel, we scheduled a ride through Flybus which can be booked directly through Icelandair. This is a convenient option and saves some money on taxis.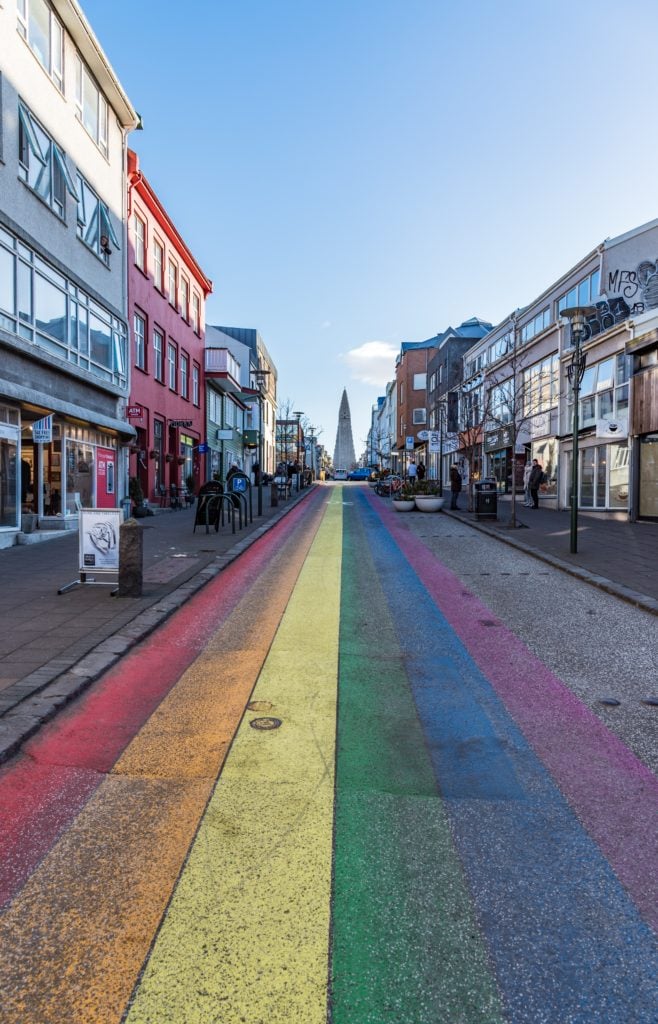 The main shopping street in Iceland that leads to the iconic Hallgrimskirkja church
Our hotel, The Canopy by Hilton, was located near the main street of Reykjavik. I recommend staying near the city center so you can walk to all of the main city sites. If you have free time after arriving the Reykjavik, take advantage of the cute shops or simply wander the streets.
Where to Get Dinner in Reykjavik
We solicited dinner recommendations from many locals and they all suggested the delicious Grillmarkadurinn (or Grill Market). This restaurant is a high-end local restaurant tucked into a back alley. The menu and wine list are refined yet approachable. We sampled puffin, whale and reindeer, all of which were surprisingly tasty! For my main course, I enjoyed a beef filet which rivaled those of the best steakhouses in the United States.
Day 2: Iceland's Golden Circle
After a good night's rest, day 2 was all about adventure! While jet-lag will be a factor, get ready for an action packed second day of your Iceland Stopover.
                    Glacier off-roading at sunrise around 11 am (days are SHORT in the winter)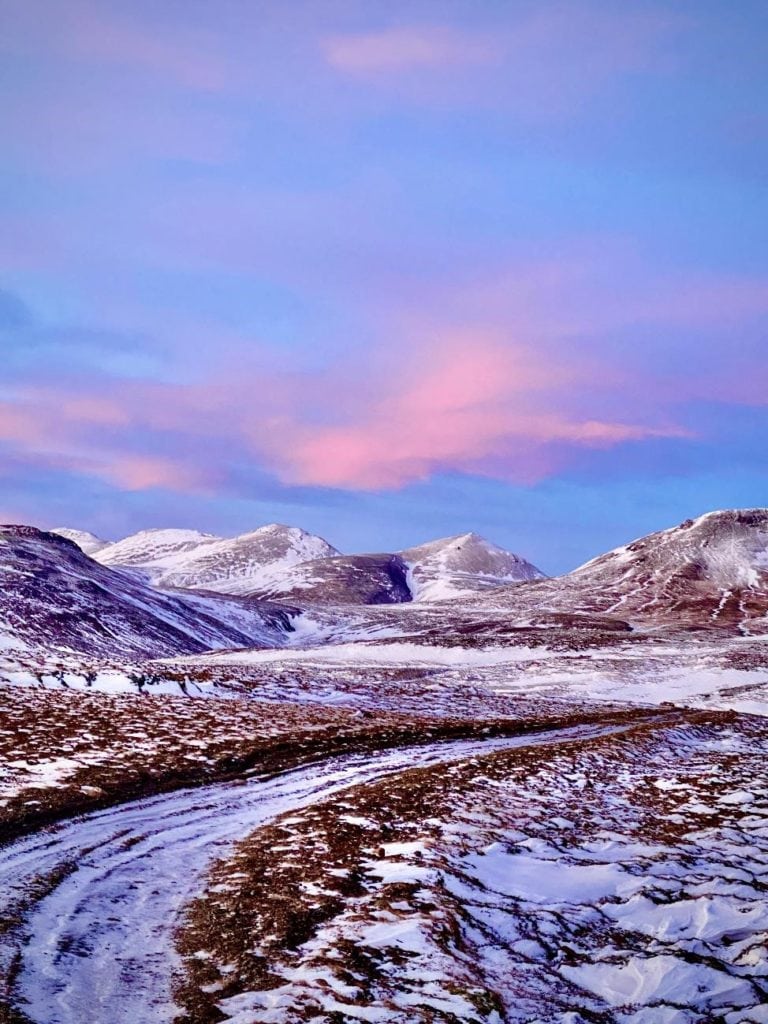 Golden Circle Superjeep Tour
If you do one thing during your Iceland Stopover, do a superjeep tour. The Golden Circle is a 1-day loop just outside of Reykjavik that highlights the main attractions of Iceland. Visiting on a guided tour provides local insights, historical background and access to the lesser-known stops.
We embarked on a superjeep tour of the golden triangle bright and early. Our charming and candid guide, Arnie, picked us up from our hotel then we embarked on an 6-8 hour tour of the golden circle where we saw waterfalls, Geysir (the original geyser the rest are named after), Icelandic horses and went off-roading on a glacier.
All of the stops were beautiful (and chilly) but my favorite was the glacier. Arnie let some air out of our tires so we could go deep onto the glacier to where we were the only people around. The serenity of being away from other people and simply surrounded by nature took by breath away.
                             The jeep itself! So rugged and handled the roads like a champ.
I recommend doing a private tour because everyone is guaranteed a great window view, you can progress at your own pace and you can easily get all your questions answered by the guide. Some choose to self-guide a tour which will save some money, but I would only recommend this if you are very comfortable driving in rugged conditions and are satisfied not having a guide to give you the inside scoop.
After we finished our tour, we went back to the hotel for a quick rest and dinner before embarking on our next adventure.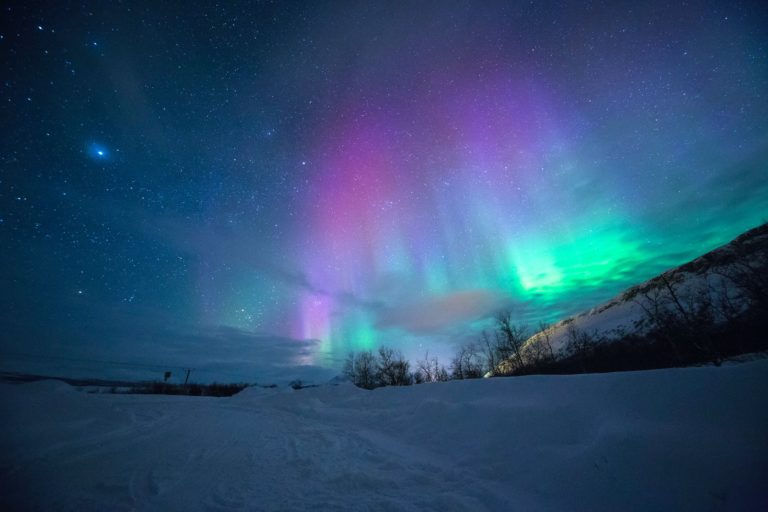 The Northern Lights we hoped to see.. next time!
Iceland Northern Lights Tour
Another staple of an Iceland Stopover in the winter is hunting for the northern lights. Seeing the Northern lights is a bucket-list item for most people and Iceland is one of the only places they can be seen. While not a guarantee, Iceland in the winter is the best time to go light-hunting.
Around 10pm, Arnie picked us up again to embark on a superjeep expedition to hunt down the northern lights. We drove far away from the light pollution of the city and visited 3-4 sites that are notorious for great visibility. Unfortunately, the northern lights were not active that night so seeing them remains on my bucket list.
Even without seeing the lights, I would still recommend the activity. It was surreal being out in the Icelandic wilderness with nobody else around. We were also ensured that we could take another tour for free our next trip to Iceland to try again to see the lights. We will take Arnie up on this offer someday soon!
Day 3: Depart Iceland
As your 48 hours in Reykjavik come to and end, you will be wondering why you did not book a longer trip but will be satisfied by the memories you created in a short time. Either head back home or embark on the next leg of your European vacation.
The next morning, we took off on another flight toward Zermatt Switzerland. Although the trip was quick, we left with a newfound love for the Viking country of Iceland.
Other tips:
If you are short on time like us, stay in the city center. We stayed at the Canopy by Hilton, but I would recommend any hotel or hostel in that area that fits your price range.
Bring warm layers! Reykjavik tends to be around 32F in the winter but the golden circle felt much colder with the wind chill.
I hope this guide helps you plan your perfect Reykjavik Iceland stopover. Subscribe to my blog and follow me on Instagram for more travel tips.
Blog by https://thetravelingmoore.com/